Press Releases 2018
Image Access regularly releases news and information to the press. The press releases below offer you the latest news in PDF format as well as photos and other graphics which can be downloaded in full resolution for publication. If you need more information, contact us:
Debra Ingendoh
, Marketing, Media and Public Relations. We will be happy to answer your questions and provide further details.
March 6, 2018
WideTEK® 48CL - Fastest Sheetfeed in 48 Inches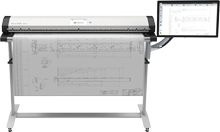 Industrial quality production scanner running at top speeds.
The WideTEK
®
48CL-600 is the newest member of the CL series of wide format scanners designed by Image Access to offer industrial quality scanning without the high price tag normally associated with a scanner of this size for applications in architecture, surveying, reprography or media clipping.