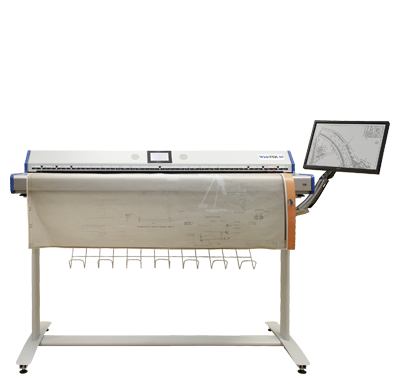 WideTEK® 42 Scans Documents Up to 42 Inches (1070 mm)
The WideTEK® 42 wide format CCD scanner scans documents up to 42 inches wide (1070 mm) quietly and at astonishingly fast speeds, making it the ideal device for large format scanning in offices or for production service providers digitizing mass quantities of documents.
State of the art illumination using bright white LEDs guarantees long lifetime and best scan results at a very low noise level in spite of the high speed. Due to their long lifetime, the lamps on WideTEK® scanners are not even considered consumables.
The cutting edge camera technology, consisting of a dust-protected, hermetically sealed camera box holding CCD systems using a patented stitching procedure, delivers an resolution of 1200 dpi.
The user operates the scanner either with a standard internet browser or alternatively, via the built-in touchscreen. A monitor directly connected to the scanner can be used for image control or to modify the scan parameters, without a client PC. Using the touchscreen display, up to 30 different password protected jobs can be defined and stored. The jobs contain preconfigured settings such as scan parameters or directories on the network drives.
The integrated walk up scanning software makes the scanner a truly shared device. One click of the mouse is enough to either print the scan, send it to any directory in the network or via email, to upload it to the FTP server, or to save it to the USB memory device. Simply walk up, scan and store or send the image, all through the use of the touchscreen.
Gentle Scanning of Historical and Fragile Documents
WideTEK® scanners scan documents gently thanks to special transport rollers with individually spring loaded ball bearing pairs serving as pressure points to ensure gentle document transport. For historical and fragile documents, this is a valuable feature but every source document is handled like a treasure by the WideTEK® 42. This special transport protects document edges from any damage when passing through the scanner. A weight-balanced backplate allows users to adjust the strength with which the documents are lifted to the scan plane. Documents up to 3mm in thickness can be scanned.
Automatic document size recognition means that operators are flexible when feeding a source document into the scanner. It is not necessary to exactly center the document on the scan area. With crop and deskew, the resulting image output will be straight, centered and without black borders.
The exceptionally high scanning speed, dust-protected and encapsulated optical components and the absence of consumables characterize this highly efficient production-ready device. With a life expectancy of over one million scans, the WideTEK® 42 redefines the price/performance ratio in the wide format scanner market.